Your child with attention deficit hyperactivity disorder (ADHD) may expect you, as the parent, to be all-knowing. She may even feel a great deal of pressure herself to always be in-the-know and may try to hide it when she finds herself at a loss. Of course, it's natural to be ignorant of things sometimes, especially for a child. Therefore, you will be doing her a favor to teach her that no one knows everything all the time, and that it's okay to not know.

The next time your child asks you a question that you don't have the answer to, simply shrug your shoulders in a silly and dramatic way while saying in an even sillier tone of voice, "I don't know." Clown around for a while and say it over and over again, making it funnier and funnier. By teaching her that there is no shame in not knowing, you are opening her up to be a better learner and problem solver. In order to solve a problem, you have to recognize that you need more research or more information. If your child is free to acknowledge when she lacks knowledge about something, she will feel better able to go after the information she needs without shame.

When you play this game, go ahead and invite your child to join you in a series of silly shrugs. While this can create a great opportunity for enjoying some silly laughter and help take the pressure off you and your child, the activity itself is also a great stress relief. The simple act of shrugging your shoulders can relieve built-up tension and can be a type of yoga or body therapy that targets and alleviates the overwhelming feeling that the world is on your shoulders. When you add the phrase "I don't know" to the physical relief, you and your child will have a powerful cue to use in difficult situations to gain perspective on the true meaning of education and learning.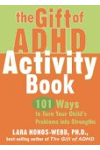 Continue Learning about ADHD