In life, teachers, kids, or other parents may blame you or your child for situations related to attention deficit hyperactivity disorder (ADHD) behaviors. You can immunize your child and yourself to this kind of blame by teaching your child to "fix the problem, not the blame." By practicing this game with your child, you will remind yourself how unhelpful blame can be.

In this activity, you and your child will practice challenging blame. Kids of all ages love to play pretend games. Use a favorite pretend character or a beloved pet and play a game of Fixing the Blame. Create a story line that is funny, entertaining, and appropriate to your child's age. For example, if you are playing with the dog, you can point at him and say, "It's Rocco's fault! All the cookies are gone because Rocco ate them all." Then guide your child to create silly stories about why, even if Rocco ate the cookies, it's not his fault. You can try a story like superhero Rocco valiantly eating all the cookies to save everyone else from getting fat. Or you could say that Rocco ate all the cookies because he saw ants in the cookie jar and he didn't want anybody eating ants. The stories can be as silly as you and your child like and don't have to make real-world sense.

When confronted with a real-world situation where your child is blamed, you will want to keep in mind that appropriate manners come first, such as a direct apology if appropriate. You will also want to apply some of the ideas learned about coaching your child if the problem results from behavior that is repetitive. However, if (as in many situations) no one was hurt and your child is being blamed for being disruptive, the skills she will learn in this silly storytelling game -- finding good intentions and recognizing that the complexity of any situation almost always transcends blaming one person -- will serve her in real life by helping her find deeper intentions and environmental provocations.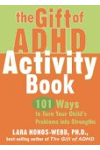 Continue Learning about ADHD