Many approaches to attention deficit hyperactivity disorder (ADHD) define the child's inability to follow directions as an inherent deficit caused by brain pathology. However, if you think of following directions as a procedural skill that you can help your child acquire, you can coach your child to great improvements. ADHD kids often don't follow directions because: 1) they don't understand the directions clearly, 2) they didn't know the timeline for the task and planned to do it later, or 3) they weren't motivated to do it.

This exercise will teach your child with attention deficit hyperactivity disorder (ADHD) skills for following directions.

Choose a time when you're driving with your child in the car. When you have a few minutes to talk, ask him to play a game with you called Roving Reporter. In this game, he gets to ask questions he is interested in, pretending that he's an investigative reporter trying to get the best answer possible. Tell your child that a good reporter has to ask the basic questions of who, what, where, why, and when.

One of the huge gifts of ADHD children is their insatiable curiosity, so he will likely have many arenas for investigation. He might ask, "What's the funniest thing that ever happened to you?" or "What's the best meal you ever had?" or millions of other possibilities. You can encourage your child to interview as many people as possible and remind your child of the importance of the five basic "W" questions. You can use follow-up drive time to ask for a report on the question currently under investigation.

Not only are you exposing your child to a possible career choice, but you're giving him a simple skill set for pursuing his intense curiosity. Once you teach your child this skill in a fun way, linked to his own questions, you can remind him at opportune moments to apply this strategy at home and at school when given directions. The answer to the "why" question will give him motivation, the answer to the "when" question will ensure he is aware of time constraints, and the answers to the "who," "what," and "where" questions will increase his clarity about what needs to be done and will prevent him from making excuses for not following directions (for instance, "I thought you were asking my brother to clean his room").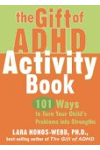 Continue Learning about ADHD