Attention deficit hyperactivity disorder (ADHD) kids struggle with performance demands and the belief at school that there's just not enough to go around. Some kids get the good grades, and some just don't. One way you can help your child to heal from this mentality is to give him experiences that help him to trust that there is abundance in the universe. There really is enough to go around -- there is no shortage of the essential goods. The activity below is designed for younger children but can be adapted for older kids by encouraging them to create their own water park in the backyard.
In this activity there is no competition. Your child gets to play for the sake of enjoying the water, exploring his creativity, and the license to get wet and messy. Kids inherently enjoy making a mess, and this will give yours the chance to do so without worry. This is an activity that has no performance demands, no rules to follow, and no better or worse. It's the water fun activity. What you will need are:
A bucket of water
A turkey baster or any other water-squirting utensil
A package of two hundred paper cups
Fill a bucket with water and give your child and any accompanying friends other tools that can be used for scooping, pouring, or containing. Show them how the turkey baster works and how fun it can be to squirt into the cups. Give them five cups. If there is more than one child, they will probably start stealing each other's cups and fighting over them. But since you have two hundred cups, you can keep giving them as many cups as they want. Give them more than they ask for. Show them that the world is generous and not stingy. This exercise allows for creativity since there are no rules. They can play without any performance demands or worries about spilling water or making a mess.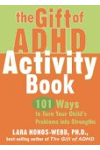 Continue Learning about ADHD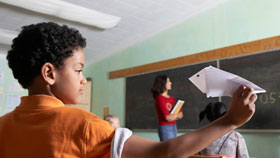 Whether you refer to it as Attention Deficit Disorder (ADD) or Attention Deficit Hyperactivity Disorder (ADHD)it's the same disorder. Impulsive behavior, hyperactivity, difficulty concentrating are symptomsand children and adults ...
can have them. Can't sit still, can't finish projects, always forgetfulthese are also part of the pattern. With medications and therapy, it's possible to control these impulses and live a more normal, productive life.
More