This exercise is an adaptation of an emotional-release technique called the Sedona method. It can be fun and entertaining for the family to do while driving in the car with some time to pass. This game will build emotional intelligence by giving your child with attention deficit hyperactivity disorder (ADHD) practice in feeling and releasing emotions. It's wonderful to be able to name feelings and to accept them, but releasing them is also a fundamental skill. One person starts with a feeling that is bothering them. Another person in the car asks the following questions about the troublesome feeling:
Where in your body do you feel the feeling?
Close your eyes and imagine that you can dive into your body and feel that feeling. What does it feel like? Is it light or dark? Does it have a texture, feeling smooth or rough? Is it hot or cold? Does it move fast or slow?
Can you imagine that feeling leaving your body and flying out the window?
Do you want to keep the feeling or let it fly away?
If you want to keep it for now, where can you put it later (when we get out of the car or when we get home or when we arrive at our destination)?
Although this exercise can be used to help release troubling emotions, it can still be helpful even when the person playing declines to let the emotion in question fly away. If the person isn't ready to let it go, they have still made progress in clarifying and naming the feeling. If there are others in the car, each one can ask the person the same set of questions. It can be helpful to go through this process many times.
After one person goes through a round of these questions, have a conversation about how it's helpful or not helpful. Each person can take their turn, having an opportunity to present a troublesome feeling and go through this round of questioning by other family members.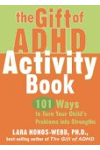 Continue Learning about ADHD