Children live in the worlds of their imagination, and research shows that imagination can have powerful effects on feelings, thoughts, and even physical health problems. Your attention deficit hyperactivity disorder (ADHD) child's imagination can become a powerful resource for containing and channeling her high levels of energy. Following is a few pretend games your child can try.

Tell your child you are going to play a pretend game in which she'll use her powers of imagination. Ask her to sit down and take a few deep breaths. Then tell her to imagine a control room, perhaps an airplane cockpit, that contains a lot of dials and control valves. Invite her to playfully explore this control room. Ask her to find a gauge that tells her how fast her motor is revving. Ask her to imagine that the gauge goes from 0 to 100 miles per hour, then ask her to tell you what the speed is now. Tell your child that, just as you can adjust a thermostat to change the temperature in a room, she can change the speed of her motor by adjusting a powerful control valve. Tell her to imagine finding the control valve that determines the speed of the motor. When she finds it, ask her to slow down the motor speed. If it was at 50 miles per hour, tell her to move it to 20 miles per hour. Ask her how this level of energy feels. Then have her experiment until she finds a specific speed that feels comfortable -- a speed at which she has enough energy to focus and pay attention but not so much that she still feels driven or can't sit still.

Practice this repeatedly, and remind your child that she can use the control valve to change the speed of her motor. Remind her of her target speed, and tell her that she should use the control valve to get to that speed whenever she feels she has too little or too much energy.

Spend some time playing with your child to make the control valve and gauge concept more concrete. She can draw the room or cockpit where the gauge and control valve are located, depicting both of these items in detail. If you can find any toys that look similar to the valve, have her physically act out these control strategies.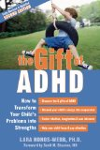 Continue Learning about ADHD