Children with attention deficit hyperactivity disorder (ADHD) may be overwhelmed by tasks that seem to require too much effort or skill. Moreover, children with ADHD often are unable to coordinate the sequential steps that comprise a complex task. A task analysis is a technique that breaks a complex or difficult task into its component parts. By doing so, a complex task may be converted into a more manageable task for children with ADHD. This provides the child with a sense of achievement and success as the child masters each of the component skills that comprise the integrated skill.

By breaking a difficult task into a series of more manageable tasks, both the child and parent/teacher will feel less overwhelmed. A task analysis helps to redirect attention to gradual improvement (rather than to ultimate goal attainment) and thereby encourages feelings of success instead of failure.
Continue Learning about ADHD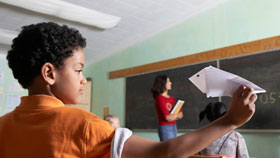 Whether you refer to it as Attention Deficit Disorder (ADD) or Attention Deficit Hyperactivity Disorder (ADHD)it's the same disorder. Impulsive behavior, hyperactivity, difficulty concentrating are symptomsand children and adults ...
can have them. Can't sit still, can't finish projects, always forgetfulthese are also part of the pattern. With medications and therapy, it's possible to control these impulses and live a more normal, productive life.
More