Try to work toward reframing your child's "defiance" into self-reliance and successful strategies. You can start with the quality of inventiveness and try to see how your child's difficulty following directions may be related to that quality, for example.

In the Invention Convention activity, you will have a "convention" of sorts of your child's inventions. You can open it up for family and friends. Like a museum curator, put on display all the inventions or acts of creativity your child has produced. Many attention deficit hyperactivity disorder (ADHD) children excel in drawing, music, or performance arts like dance. In addition to the collection of creative expression you already have, prepare for the Invention Convention by trying to see how seeming acts of defiance are in the service of inventiveness. In A Whole New Mind, Daniel Pink quotes an inventor, Trevor Baylis, as saying, "The key to success is to risk thinking unconventional thoughts. Convention is the enemy of progress. As long as you've got slightly more perception than the average wrapped loaf, you could invent something."

Be inspired by this quote and translate your child's oppositional behavior into this sort of inspiration. Your child's creativity may be in a realm that you consider as just child's play and not worthy of the title of inventiveness. But whether it's making elaborate train-track configurations or tinkering with your mechanical objects, many of your child's activities, especially when they are "misbehaving" in some way, can be seen as creating something new. If your child doesn't do his homework but creates a masterpiece landscape out of Legos, take a photograph to display in your Invention Convention. For one week in preparation, don't rebuke your child for the energies he channels into arenas that aren't necessarily related to school or other disciplines. Honor these efforts by recording them and saving them for display. If your child tells a story, write it down and put it in a frame to show it off. If your child creates a dance performance, write a review and share it with him. Many great inventors get lost in their enthusiasm and find it difficult to pay attention to other demands. Whenever possible, take advantage of the times when your child doesn't follow directions to see if the activity he is absorbed in can be seen as a form of inventiveness.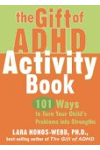 Continue Learning about ADHD