Your child with attention deficit hyperactivity disorder (ADHD) needs to learn to have high standards but not to have undue anxiety about imperfection. One way you can keep the balance is to maintain your expectations, but eliminate harsh, unrealistic, and rigid beliefs about those expectations. In addition, you can plan an "imperfection day" where you celebrate the human foibles and overall imperfection that none of us can escape.

You can plan this day to be one of lowered expectations, with an easygoing attitude. You could eat easy meals like sandwiches and soup rather than something complicated. You can allow for relaxation, naps, and activities that don't lead to self-improvement or fulfill performance demands.

Your child and each person in the family should honor imperfection by choosing one way to intentionally allow some form of imperfection. It may be as simple as wearing a piece of clothing that has a stain on it or a rip. You may want to find an old picture your child drew that isn't a glorious piece of artwork but is delightful in its sloppy imperfection and frame it to hang on the wall. You may choose to allow your child to wear an outfit that is messy or poorly coordinated and do the same for yourself. Find a way to express your ability to be comfortable with imperfection and laugh about it.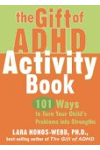 Continue Learning about ADHD