Your child with attention deficit hyperactivity disorder (ADHD) needs you to be a strong advocate at school. Keep an up-to-date record of all information about your child. Important documents to include are all evaluations of your child and any documents about earlier treatment and placements. Keep a list of all the therapists and others who have worked with your child in the past. Also keep notes and records of meetings with school personnel about your child.

Share your information with the people who are now working with your child. To be sure your child is getting the help he or she needs, learn all you can about your child's educational rights under the law.
In interacting with friends, family, schools, and health care professionals you need to take an active role in translating your attention deficit hyperactive disorder (ADHD) child's behavior as strengths. A recent study demonstrates how fundamental it can be for your child's well-being for you to become a strong advocate. The study showed that children with ADHD diagnoses and typical behaviors often become stigmatized, with those around them preferring to keep their distance. This study shows how a lack of intervention can result in a vicious cycle developing. Your child's behavior can lead to stigma, which leads to social isolation, which leads to increased symptoms.

The most important thing you can do is to be on your kid's side. This means that you make it your goal to help your child come out looking good. This doesn't mean that you don't practice good manners and teach your child to apologize if she has hurt someone, but rather that as a general strategy, you need to actively reframe your child's behaviors. Any chance you get, you should try to explain behavior in as positive a way as possible.

As frustrated as you may get with your child with attention deficit hyperactivity disorder (ADHD), remember that staying very closely connected to her is the most effective way to minimize acting out. In the heat of the moment, the first intervention should be to get down to your child's level and look her intensely in the eyes with care, concern, and love. Touch her in a calming and loving way. If you can remember this as a first approach to handling any behavior such as whining, wanting something she can't have, or acting out, you will minimize many problems.

In addition to reframing bad behavior and maintaining your close connection to your child, you can actively search for a gift that your child is expressing and help others see this gift. Rather than cringing at her hyperactivity, try saying, "Isn't she the spunky one!" When her emotions are bursting forth, help others see how intense and sensitive she is. If you cringe, you are likely to evoke a similar reaction in others. If you see and mention the gifts, others will too.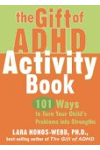 Continue Learning about ADHD