Data from a national sample of children with special health care needs, ages 4-17 years, collected in 2009-10 showed that many children with ADHD were not receiving treatment as outlined in the best practice guidelines released in 2011 by the American Academy of Pediatrics (AAP).
Less than 1 in 3 children with ADHD received both medication treatment and behavioral therapy, the preferred treatment approach for children ages 6 and older.
Only half of preschoolers (4-5 years of age) with ADHD received behavioral therapy, which now is the recommended first-line treatment for this group.
About half of preschoolers with ADHD were taking medication for ADHD, and about 1 in 4 were treated only with medication.
More recent data are needed to understand if the treatment patterns have become more aligned since the current guidelines were released.
Learn more about treatment patterns here:
http://www.cdc.gov/ncbddd/adhd/features/adhd-keyfindings-treatment-special-needs-children.html
The presence of the CDC logo and CDC content on this page should not be construed to imply endorsement by the US Government of any commercial products or services, or to replace the advice of a medical professional. The mark "CDC" is licensed under authority of the PHS.
Continue Learning about ADHD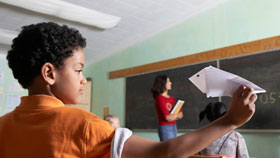 Whether you refer to it as Attention Deficit Disorder (ADD) or Attention Deficit Hyperactivity Disorder (ADHD)it's the same disorder. Impulsive behavior, hyperactivity, difficulty concentrating are symptomsand children and adults ...
can have them. Can't sit still, can't finish projects, always forgetfulthese are also part of the pattern. With medications and therapy, it's possible to control these impulses and live a more normal, productive life.
More