If children with attention deficit hyperactivity disorder (ADHD) are unable to gain what they desire via appropriate behavior, they will likely do so through inappropriate behavior. An effective method of modifying the child's behavior is to provide the child with a legitimate means to obtain incentives that are important to him or her. A behavior analysis can help to identify a child's immediate goals, thereby permitting these goals to be used as a reward for appropriate behavior.
Follow these tips to manage your child's ADHD treatment:
Keep appointments. Until symptoms are stable, your child's doctor may request follow-up appointments every 3 to 4 weeks. After that, follow-up visits are usually every 3 to 6 months.
Make sure your child takes medication as prescribed. Don't let your child skip doses. And make sure your child's doctor tells you what to do if a dose is missed.
Tell your doctor about other medications. This includes herbs, vitamins, and over-the-counter remedies your child might take. Your doctor can help you make sure these don't interfere with the ADHD medication.
Watch for side effects. Ask your child's doctor about any side effects that may happen. Use a chart to help track any side effects. Call the doctor if anything worries you. The medication type or dose may need to be adjusted.
Ask questions and give feedback. Make sure you understand every part of your child's treatment. Discuss any concerns with the doctor. Return follow-up questionnaires with information about home and school performance. Ask for a second opinion or a referral to a specialist if necessary.
When you are helping your child manage his emotions, a pitfall to avoid is to allow him to discharge his negative emotions by acting out in a disruptive way. It's important to recognize that, while you don't want to facilitate your child in resisting powerful emotion, neither do you want to facilitate negative behavior. You don't want to punish your child for outbursts, but you do want to direct him to more appropriate strategies for coping with intense emotions.
It may help to think of your role in parenting as being like that of a coach. You may need to say every day, multiple times to your child with ADHD, "Talk in your normal voice" when he is whining or "Talk it through" when he starts to act out his anger. Coaches don't punish the person in training for not executing techniques correctly. A coach understands that repetition of feedback is necessary to take the trainee to the next level. The coach also understands that when the trainee does make a developmental leap, there will be yet another stylistic or technical element that will need constant repetition.
Also, notice that the coach calmly and clearly states to the player what he needs to do. The coach does not yell about what the person needs to stop doing. For example, the coach doesn't scream in frustration, "Stop straightening your legs!" This strategy doesn't work because it doesn't tell the player what he should do. It doesn't solve a problem; it chides, and depending on tone, may even humiliate.
The other thing is that you get what you aim for. You increase what you focus on. If you put your attention on straight legs, even if you're saying don't do it, you will likely get more straight legs. Think how much more effective it would be to use consistent, gentle reminders to the player to bend his legs.
A coach knows that even with constant repetition, if problems persist, then they need to do some problem solving. Rather than blaming herself or the player for not following directions, she sets out to discover why that player is unable to follow the guidance given.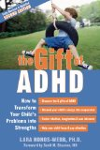 Continue Learning about ADHD