It is true that attention deficit hyperactivity disorder (ADHD) children are noticeably different from children who have not been given this diagnosis. But calling this difference a disorder is based on an interpretation -- one that has negative effects on your child.

Psychology and medical science tend to call any difference a disorder. So, while your doctor, psychiatrist, or psychologist may have very complicated medical explanations for your child's disorder, and studies discussed in the media may seem to provide that there are brain differences and pathology related to ADHD, you need not be fully convinced that he has actual brain pathology. There may, in fact, be significant brain differences, but these do not have to indicate brain disorders.

It's important for you and your child to be able to question the belief that the differences you see in your child are part of a medical disorder related to brain pathology and therefore unchangeable. Otherwise you create expectations that can make it more difficult for you to help yourself and your child. You can change his behavior and emotional impulsivity, but you and your child will need to believe that change is possible and expect to see improvements.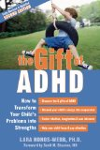 Continue Learning about ADHD