It is critical to have consistent routines and behavior expectations for successful treatment plans for attention deficit hyperactivity disorder (ADHD). Especially for children, it helps to constantly reinforce positive coping skills. It is important to involve both parents in the process, from ADHD evaluation to treatment decisions. If there are communication conflicts, it may help to talk with a family therapist.
Continue Learning about ADHD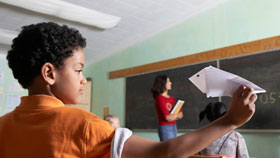 Whether you refer to it as Attention Deficit Disorder (ADD) or Attention Deficit Hyperactivity Disorder (ADHD)it's the same disorder. Impulsive behavior, hyperactivity, difficulty concentrating are symptomsand children and adults ...
can have them. Can't sit still, can't finish projects, always forgetfulthese are also part of the pattern. With medications and therapy, it's possible to control these impulses and live a more normal, productive life.
More