As a parent, your best chance of getting good behavior from your child with attention deficit hyperactivity disorder (ADHD) is for him to feel strongly connected to you. Not only is your child more likely to follow directions if he feels a connection, but bad behavior is often an expression of feeling alone or unsupported. Sometimes our high-tech world makes it almost impossible to really be present with those you love. Whether it's the anxiety to check e-mail or constant access to text messages and cell phones, both parents and kids are challenged to be really present for each other.

A great activity that can help counteract this modern sense of distraction is to plan a retro day. On this day you celebrate a past time, like the fifties, sixties, or seventies, and as part of this celebration, you limit or ban more modern technology. You will discover that operating without your newfangled toys can slow down the pace of the day. But you will also find the slow pace offers many opportunities for connection. Instead of using the microwave to heat up a packaged meal, take the time to get your kids involved in making a more elaborate meal. Cutting, chopping, stirring, and washing can be a great time to be together and talk casually. You can make it even more fun by giving your kids a sense of history, wearing period-inspired outfits, playing music from that era, and telling your kids about a family-centered way of life. Unplug from your virtual connections and get tuned in to the rhythms of a slower world.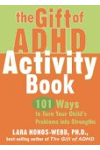 To connect with your child with attention deficit hyperactivity disorder (ADHD), it is important to accept the child completely. Let your child know how much you love them. Find activities you can do together and praise your child for even small attempts at a new task. Help your child develop social skills, which can help her get along with peers at school or at play.

In addition, determine your child's strengths and find ways to help them use these attributes to boost their confidence and self-esteem.

Continue Learning about ADHD