If your child does not receive treatment for their attention deficit hyperactivity disorder (ADHD), she may have unfavorable school and social experiences for many years. ADHD is a disorder that often responds well to medication and therapeutic treatments. If you do not want your child to take medication, explore behavior therapy and social skills training opportunities for children with ADHD.
If your child does not get treated for ADHD, her grades may suffer. She may exhibit frequent undesirable behavior problems that cause conflicts with teachers, peers, and others in her life.
ADHD, when untreated, can also challenge you as a parent. According to the American Academy of Child and Adolescent Psychiatry, teenagers with ADHD who are not in treatment are more likely to cause car accidents than others. For these reasons, discuss the ADHD treatment options with your child's pediatrician or another health professional. Decide on the option that works best for you and your child.
Common problems children who are untreated for ADHD:
Increased likelihood of dropping out of school
Decreased likelihood of finishing college
Higher rates of relationship problems
Higher rates of mental health and medical problems
Increased likelihood of substance abuse
These consequences may persist well into adulthood if ADHD is not treated. Mental health experts state that there is no cure for ADHD, and treatment does not eliminate all symptoms. Yet, the American Academy of Child and Adolescent Psychiatry recommends regular treatment to reduce many of the negative effects of ADHD.
If your child has ADHD and doesn't get treatment, he could have serious, lifelong problems that will affect you, too. Kids with ADHD who don't get help are more likely to have low self-esteem and fail in school. They also have trouble getting along with family members and other kids, which definitely doesn't help your stress levels. As adults, they may have trouble finding and keeping a job, and they're more likely to get divorced and have issues with substance abuse.
All in all, the earlier your child gets diagnosed and gets help, the better his chances he has of learning ways to cope with ADHD and be more successful. Not to mention, happier. Even if your child does not have ADHD, your doctor may be able to identify what is causing his symptoms.
Failing to recognize and treat ADHD in childhood may impact a child's overall health andpsychological well-being into adulthood. Individuals with untreated ADHD have an elevated lifetime risk of school failure, depression, behavioral disorders, work and relationship problems, and substance abuse.
From Good Kids, Bad Habits: The RealAge Guide to Raising Healthy Children by Jennifer Trachtenberg.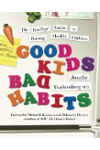 Continue Learning about ADHD