One big worry for parents of attention deficit hyperactivity disorder (ADHD) children is that their kids won't be able to succeed in the world. If you commit to the idea that your child's differences are just that—a difference and not a disorder—you begin to nurture your child's uniqueness. To take it a step further, many leading-edge thinkers are taking seriously the idea that the dramatic changes in the world and economy will require just such a difference that many ADHD children have.
In A Whole New Mind, Daniel Pink writes, "Thanks to an array of forces—material abundance that is deepening our nonmaterial yearnings, globalization that is shipping white-collar work overseas, and powerful technologies that are eliminating certain kinds of work altogether—we are entering a new age. It is an age animated by a different form of thinking and a new approach to life … [a]nd the capabilities we once disdained or thought frivolous—the 'right-brain' qualities of inventiveness, empathy, joyfulness, and meaning—increasingly will determine who flourishes and who flounders".
These capabilities map almost exactly onto the gifts of ADHD: creativity, exuberance, interpersonal intuition, emotional sensitivity, and ecological consciousness.
Finding a career
It is very difficult to teach or train people to be creative—a gift with which your child is naturally endowed. It is much easier to train someone who is creative to be disciplined, and to pay attention to details than it is to teach someone who is focused and disciplined to be creative. Your child with ADHD has the potential for excellence if they can learn to apply discipline to paying attention to details and following through in translating their imaginative flights into completed projects.
However, parents should recognize that the best career for your child is one that uses his gifts rather than one that patches over his or her weaknesses. In this way, your child will likely be happiest in non-traditional fields or pursuits that capitalize on creativity, innovation and social connections. In general this means that parents who expect their children to go to the top schools and become professionals might do better to change their expectations so their children feel free to live the lives that best use their gifts.
Parents can have appropriate expectations and these may include every mother's dream—even a child becoming a doctor. One of the gifts of ADHD is an intuitive connection to the natural organic world. The human body and anatomy is part of the living organic world, and I've seen that some of the best doctors have overcome the limits of ADHD to be excellent intuitive doctors that capitalize on their gifts of interpersonal connection and intuition. If a child can get through the rigors of advanced schooling often they can become exceptional in their chosen field if the subject area is one of intense interest. But an ADHD child whose parents want them to become a lawyer and the child has no interest in that content area is burdening the child with expectations that will make it difficult for that child to offer his or her natural gifts to the world.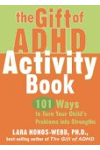 Continue Learning about ADHD