As an adult with attention deficit disorder (ADD), your restlessness may be a warning that there are better ways to spend your time. Your restlessness may indicate that you are living a false life. Your restlessness may be saying, "Move on!" or "Keep moving!" In order to understand its deeper meaning, you will have to contain and listen to your impatience.
Using creative expression as an emotional outlet
When you are an emotionally sensitive ADD adult, you find it difficult to repress or suppress your inner responses to the world. The more sensitive you are, the more you crave to channel your experiences into some form of creative expression. Indeed, emotional sensitivity may be the root cause of creativity.
It is important to honor your impulse to translate your sensitivity into creativity. Don't limit yourself by thinking that creative expression has to be skillful or lucrative. Finding and embracing a creative outlet is much like taking a dog cooped up in a small apartment out to a vast natural landscape and unleashing her.
Your creativity will not only enrich your life and that of others, it will also be powerfully healing for you. Many psychological symptoms can be traced to a dammed-up creative expression. When you don't bring forth the art that is within you, the creative force can turn ugly. Addictions can sometimes be attempts to repress emotional sensitivity; the very act of unleashing this sensitivity can mitigate the need for the dulling effects of drugs, alcohol, shopping, sex, pornography, compulsive busyness, and so on.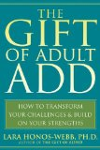 Continue Learning about ADHD