Most attention deficit hyperactivity disorder (ADHD) children demonstrate gifts in creativity, whether through drawing, a different way of seeing the world, or some other form of artistic expression. Some people who have worked with ADHD kids for decades have said that they actually doubt the ADHD diagnosis if they don't see evidence of artistic creativity.
Creative genius or inspiration requires a certain sort of openness—exactly the sort of openness your child with attention deficit hyperactivity disorder (ADHD) displays. Creativity often requires reframing or rethinking old problems. Openness (sometimes given the more negative name "spaciness") provides a larger frame for seeing a bigger picture, allowing for space to solve old problems. Many people have said that the definition of insanity is doing the same thing repeatedly but expecting different results.
Spaciness lends itself to achieving a different level of thought from that which typically creates most problems. Thus, children with ADHD who have been labeled as spacey often have the capacity to solve problems created by rigid modes of thinking.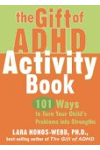 Continue Learning about ADHD