Attention deficit hyperactivity disorder (ADHD) is often treated with medication. Either a stimulant or a non-stimulant medication may be prescribed. Counseling provided by a trained professional is also part of an effective treatment. Parents and teachers of an affected child will benefit from education about the best ways to interact with the child.
Usually ADHD is managed with a combination of behavioral therapy and medication. When properly managed, children may learn to use their excess energy to their advantage, while also learning how to minimize other less productive tendencies of the disorder. A well-rounded, healthy diet, high-quality sleep, and limited environmental distractions can help.
From Good Kids, Bad Habits: The RealAge Guide to Raising Healthy Children by Jennifer Trachtenberg.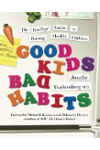 Continue Learning about ADD/ADHD Treatment