Behavior modification, or behavior therapy, is a psychosocial treatment for attention deficit hyperactivity disorder (ADHD). This type of therapy can be very effective as a treatment for ADHD and can help a person change his or her behavior. Behavior therapy is most effective when combined with ADHD medication therapy. In behavior therapy, a child, adolescent, or adult works to identify problem areas, learns new skills to change problem behaviors, and practices these skills.

Parents and teachers may be asked to get involved in a child's behavior modification therapy, learning ways to help the child or adolescent reduce problem behaviors and use new coping skills.

Behavior modification can also be learned in social skills groups. In a social skills group, behavior modification therapy takes place in a group setting, composed of people with ADHD. The group can work together on changing troublesome behaviors with support from their peers. Behavior modification can help individuals with ADHD achieve greater success in school, at work, and in their personal life.
Behavioral therapy includes setting up a system of rewards for positive behavior to help children build self-esteem. To me, behavior management therapy is almost always beneficial because your child will learn how to be better organized and how to break down large tasks into smaller, manageable pieces with the help of timetables and schedules. Many schools have developed special programs to help kids with ADHD. While there is no specific cure for ADHD, a long-term management plan will help bring encouraging results.
From The Smart Parent's Guide: Getting Your Kids Through Checkups, Illnesses, and Accidents by Jennifer Trachtenberg.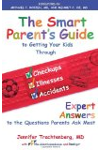 Continue Learning about ADD/ADHD Treatment