Cognitive behavioral therapy (CBT) helps people with ADHD learn more effective ways to think about and solve their behavioral problems. It focuses on the way you think about specific behaviors, and helps you change the way you think so that you can better control those behaviors. Since behavioral issues can cause a lot of trouble for people with ADHD, CBT has been shown to help a great deal.
Cognitive-behavioral therapy (CBT) is a powerful therapy that helps people with attention deficit hyperactivity disorder (ADHD) identify and change negative thoughts and behaviors, and it can help people curb unwanted behaviors like disorganization and poor time management. Cognitive-behavioral therapy for ADHD can also help people feel more confident and more empowered.
Cognitive behavioral therapy (CBT) can be useful when adults with attention deficit hyperactivity disorder (ADHD) are ready to make healthy changes in their lives. During CBT sessions, a therapist helps the client find ways to adjust unhealthy patterns of thinking and behaving. For instance, clients with ADHD can be taught ways to stay focused on their work, even in instances where they are highly distracted and fidgety. CBT is also helpful for adults with ADHD who have low self-esteem. The adult is taught ways to reduce negative, self-defeating thoughts by replacing the thoughts with positive or neutral statements. CBT sessions can be done individually or in groups, are very structured, and may include homework assignments.
Cognitive behavioral therapy (CBT) can teach people with attention deficit hyperactivity disorder (ADHD) how to change unhealthy thoughts and behaviors. Therapists who use CBT work in a very structured setting and often prescribe homework assignments for people to complete outside of therapy sessions. During therapy sessions, patients identify problems that need to be solved, and a therapist helps the person learn and practice healthy ways to solve the problems. In CBT, people can address problems that occur at home, at school, at work, or in relationships.
One form of CBT for ADHD is called collaborative problem solving (CPS). CPS is a method that parents and adults can use to encourage healthy behaviors in children. Adults are taught ways to predict situations that will cause problems for a child and proactive ways to prevent problem behaviors from occurring.
Children with attention deficit hyperactivity disorder (ADHD) need support in challenging their negative thinking. Cognitive behavioral therapy (CBT) activities will help build your child's executive functioning skills by increasing his ability to identify and weigh the pros and cons of any behavior. Your child learns through being engaged with the world, by touching, tasting, feeling, and being actively immersed in what she is trying to learn. This is important to keep in mind when deciding how you will engage her in this CBT healing program.
Your child will have a very low tolerance for lectures or moralizing, as she has difficulty with (and little interest in) wading through abstract information. This means that separating facts and figures from their real-world context is almost intolerably boring for your child. You can use concrete, sensory objects to impress upon your child the principles of cognitive behavioral therapy.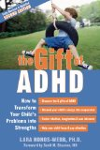 Continue Learning about ADD/ADHD Treatment