Children can show attention deficit hyperactivity disorder (ADHD)-like symptoms for many reasons other than having the actual disorder. For example, children may be disruptive because they are under too much stress. There may be family problems that they are acting out at school. A child who has suffered a recent loss (the illness or death of a parent, a grandparent, or a sibling) can be expected to show disturbance in her behavior. These disruptions will pass if the child is given a chance to talk about and receive support for her concerns. A child may show ADHD-like symptoms because one parent is depressed or because there is serious marital conflict between her parents.
If your child does not have a long-standing history of hyperactivity and attention problems but developed symptoms suddenly, then you should suspect some reaction to life events. Ask yourself whether any major, life-changing events recently occurred in your family prior to the appearance of ADHD-like symptoms:
Did a parent lose a job?
Has your child had health problems?
Have there been health problems in family members?
Have there been any deaths in the family?
Have there been serious marital conflicts?
Have any older siblings left the home?
Has there been any physical, emotional, or sexual abuse?
Is either parent depressed or anxious?
Are there legal problems in the family?
Are there serious financial problems in the family?
Does either parent use or abuse alcohol or drugs?
Children are dramatically affected by these kinds of events, and it is predictable that their behavior will change to act out their fears, losses, anger, and stress. If you answered yes to any of the preceding questions, and your child's behavioral problems seemed to develop suddenly rather than being present for a long time, you might want to consider that your child does not have ADHD at all. In that case, the appropriate approach would be a form of supportive treatment. This would give her an opportunity to fully talk through her concerns and get support, and her behavior problems would very likely subside.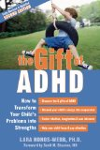 Continue Learning about ADD/ADHD Symptoms