Because most people have some ADD symptoms some of the time, ADD is often misdiagnosed. Researchers and clinicians alike have noted intense complications and pressure in making a diagnosis of adult attention deficit disorder (ADD). The pressure to diagnose ADD has been described by physician Larry Diller as coinciding with when "drug companies gained permission to advertise directly to patients in the mass media." Because so many people recognize symptoms of ADD in themselves, they may go to the doctor with a self-diagnosis -- often a misdiagnosis.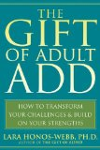 Continue Learning about ADD/ADHD Diagnosis

ADHD symptoms usually appear early in life, often between the ages of three and six. Because symptoms vary from person to person, the disorder can be difficult to diagnose. To confirm whether or not you have ADD or ADHD, it's impo...
rtant be thoroughly evaluated by a mental health professional.
More