The teacher's interpretations of your child's behavior can have dramatic effects on his attitudes toward education and the course of his motivation and achievement. Research has found that teachers may be the force behind the dramatic increases in the diagnosis of attention deficit hyperactivity disorder (ADHD). In one study, researchers who surveyed pediatricians, psychiatrists, and family physicians found that in 47 percent of cases of diagnosed ADHD, the teacher was the person who first suggested the diagnosis.

The implication of this finding is that teachers have a great deal of power in the diagnosis and course of ADHD. In light of this, as a parent who has a child diagnosed with ADHD, your efforts to work with the teacher are essential to your child's transformation. It also suggests that if your child's diagnosis was suggested by a teacher, you may want to consider the validity of the diagnosis. Although teachers don't make diagnoses, they usually are asked to fill out rating forms that psychologists and psychiatrists use in assessment. Often teachers are overworked, have too many children in their classes, and are working with too few resources. Their capacity to manage a class may be pushed to its limits due to increasing budget cuts in education, and therefore they may suggest that ADHD be treated with medications that make a child easier to control in the classroom.

Teachers often have good intentions for your child, but they themselves have been schooled in the medical model of ADHD. They often believe that it is a medical disorder rather than a behavioral problem that can be caused and alleviated by changing thoughts, behavior, and environments.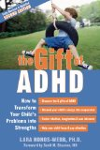 Given that teachers are the first to observe the ADHD symptoms in the child in a classroom setting, they are often approached by evaluators to rate their observations of the child's behavior on standardized evaluation scales to compare it to that of other children the same age and gender.
Teachers can provide excellent--and often the first--observations of a child's behavior that may be concerning. Teachers' feedback is also important when a child is being evaluated and then treated for ADHD. However, teachers do not make the diagnosis--this is typically done by a psychologist, psychiatrist or developmental pediatrician. It is important for these evaluators to speak to a child's teacher to learn as much as possible about the child. Professionals that don't collect information from the teacher, as well as from you and from observing a child, may not be making the best diagnosis possible.
Continue Learning about ADD/ADHD Diagnosis