The promise of getting a diagnosis of adult attention deficit disorder (ADD) is that suddenly what may have seemed like a personal failing has a name. The pitfall of getting a diagnosis is that while ADD may roll off the tongue these days like a hip new fad, it is classified as a mental disorder. The label illuminates at the very same time that it incapacitates. And the label can easily become a permission slip for problem behavior; for example, for kids to stop working or for husbands to cheat on their wives because "my ADD made me do it."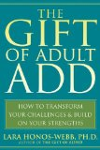 Continue Learning about ADD/ADHD Diagnosis

ADHD symptoms usually appear early in life, often between the ages of three and six. Because symptoms vary from person to person, the disorder can be difficult to diagnose. To confirm whether or not you have ADD or ADHD, it's impo...
rtant be thoroughly evaluated by a mental health professional.
More