Research has found that high levels of TV viewing predict attention deficit disorder (ADD) in children; some wonder, then, whether there might not be a relationship between the proliferation of new technologies and the increased rates of ADD in adults and children (Diller 2006). Could wireless handheld devices, iPods, cell phones, and so on actually be creating an ADD audience? The new world allows us to have instant and constant access to a steady stream of incoming information and entertainment from around the globe, quite literally in the palm of our hand. Is this technology creating a demand in us for constant stimulation? Could the powerful attractor of increasingly sophisticated and easily accessible information and entertainment be responsible for making an entire culture ADD?

The primary symptom of ADD is being "easily distracted by extraneous stimuli." Technology's lure of more answers to more questions can easily make it difficult to both follow through on other projects and organize your time and effort. What household hasn't been overturned by a family member spending hours, days, weeks, researching a medical or legal condition on the Internet? For the inquisitive mind, every medical condition, every medication, and every screening procedure is fair game for days of intensive research.

Add to this difficulty in stopping activities when necessary just two more symptoms -- perhaps difficulty sustaining attention and difficulty sequencing and prioritizing -- and a technophile will meet most of the basic criteria for an ADD diagnosis. If the individual's family life and other performance demands are compromised by these symptoms (that is, if the individual suffers impairment in functioning as a result), then all of the basics required for a diagnosis will be present. It's easy to see, then, how new technologies can create ADD-like symptoms, causing adults to think they have ADD. However, true ADD is likely to be genetically hardwired; thus, if new technologies are indeed increasing the rates of diagnosis, this must be, at least in part, due to misdiagnosis. It remains to be determined how these cultural factors and technological innovations will impact an individual's long-term capacity to pay attention, stay focused, and complete high-priority projects.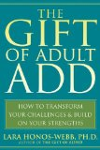 Continue Learning about ADD/ADHD Causes