On a personal note, I have benefitted from Medical Acupuncture to ease my discomfort from "hot flashes," associated with peri-menopause. More than one session of Acupuncture may be necessary to achieve desired results.
Acupuncture promotes the healing power of harmony and balance in the body's own internal "energy pathways." When an Acupuncturist inserts hair-thin needles at precise points on the body, this stimulates the nervous system to release chemicals into the muscles, spinal cord and brain. These chemicals either alter the sensation of pain or trigger release of other chemicals and hormones that influence the body's own "self-regulation," system. This improved internal balance and energy stimulate the body's natural healing abilities to promote physical and emotional wellness. Although everyone has a unique opinion about what feels comfortable, Acupuncture has little to no discomfort and generally has no side effects. You may benefit from having a consultation with a trained, licensed Medical Acupuncturist prior to making your decision about this form of complementary therapy.
According to an NIH (National Institutes of Health) consensus panel of scientists, researchers, and practitioners, clinical studies have shown that acupuncture is an effective treatment for nausea caused by surgical anesthesia and cancer chemotherapy as well as for dental pain experienced after surgery. The panel also found that acupuncture is useful by itself or combined with conventional therapies to treat addiction, headaches, menstrual cramps, tennis elbow, fibromyalgia, myofascial pain, osteoarthritis, lower back pain, carpal tunnel syndrome, and asthma; and to assist in stroke rehabilitation.

There have been a host of physician-led studies on acupuncture with promising results using this touch therapy in conditions such as tennis elbow, postoperative and chemotherapeutic nausea, stroke rehabilitation, dental pain, fibromyalgia, backache, menstrual cramps, and headache.

In a recent study published in the British Medical Journal, researchers at Ludwig-Maximilians University in Germany studied the affect of acupuncture on patients suffering with chronic neck pain, including those who had myofascial pain syndrome lasting more than five years. (Myofascial pain syndrome is muscle pain in specific areas of the neck that may be caused by physical or emotional tension). In just one week after receiving an acupuncture treatment, more than half of those treated with acupuncture reported a more than 50 percent improvement in pain.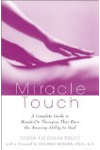 Continue Learning about Acupuncture