Acupuncturists read a person's pulse at twelve different places on the wrist. They believe that each position corresponds to an organ system, and that reading the pulse can detect subtle fluctuations in energy flow. During treatments, disposable hair-thin stainless steel needles are inserted into acupuncture points. When the needle is inserted, the person receiving the treatment may feel a prick, tingling, numbness, pain, or nothing at all. At a time, two to fifteen needles may be inserted in the hands, forearms, lower legs, feet, back, abdomen, and ears. The needles are often placed far from the symptomatic area.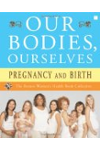 More About this Book
Our Bodies, Ourselves: Pregnancy and Birth
ALL THE INFORMATION YOU NEED TO MAKE WISE DECISIONS ABOUT YOUR PREGNANCY AND THE BIRTH OF YOUR CHILD -- FROM THE EDITORS OF THE CLASSIC "BIBLE OF WOMEN'S HEALTH" Pregnancy and birth are as ordinary...
Continue Learning about Acupuncture