Acupuncture can help manage pain. It can also help treat soft-tissue injuries, either acute injuries, like a pulled muscle in the back, or chronic injuries. For example, a college basketball player might have a creaky old shoulder that needs to be fixed. Acupuncture provides a little bit more stimulation than maybe a massage, and it's a good place to go if a person is not ready for surgery. Acupuncture is that grey area in between.

Trinity Health recognizes that people seek medical information on a variety of topics for a variety of reasons. Trinity Health does not condone or support all practices covered in this site. As a Catholic health care organization, Trinity Health acts in accordance with the Catholic tradition.

Please note, the information contained on this website is provided to supplement the care provided by your physician. It is not intended to be a substitute for professional medical advice. Always seek the advice of a qualified health care provider if you have questions regarding your medical condition or before starting any new treatment. In the event of a medical emergency always call 911 or proceed to your nearest emergency care facility.
Acupuncture is an alternative therapy that has a wide variety of health benefits. In this video, Dr. Robin Miller talks about acupuncture and how it alleviates severe nausea better than medications.
Acupuncture can be used to treat a variety of conditions, including PMS, infertility and more. Learn more from Kimberly Larson-Ohlesen, MD, with Colorado Complete Healthcare for Women in this video.
Acupuncture is an ancient science that today is used as an accepted and legitimate treatment for many conditions. A large body of research is being done by the National Institutes of Health (NIH) on acupuncture, and they have found clear evidence that acupuncture helps relieve some pain. They now state that acupuncture is an acceptable alternative or adjunct to conventional medical therapy for many conditions. The NIH had also revealed there is considerable evidence that acupuncture causes the release of endorphins -- natural pain relieving substances -- and now acupuncture is offered in many pain clinics. Research shows acupuncture had been used effectively in the treatment of addictions, depression, nausea due to pregnancy and chemotherapy, asthma and infertility.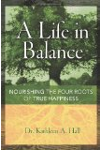 Here is just a small sampling of the many disorders with symptoms that may be addressed with acupuncture:
Repetitive Stress Injuries (RSIs): Carpal tunnel syndrome, trigger finger, and tendonitis
General pain: Easing post-surgical pain, low back problems
Autoimmune disorders: Rheumatoid arthritis, fibromyalgia, Sjogren's syndrome, Hashimoto's thyroiditis, and Crohn's disease
Cognitive issues: Lack of concentration, poor memory, and ADD
Skin problems: Eczema, psoriasis, and cystic acne
Energy problems: Fatigue, lack of motivation, and chronic fatigue syndrome
Gastrointestinal conditions: Heartburn, abdominal pain, irritable colon, and diarrhea
OB/GYN issues: PMS; painful periods, and morning sickness, menopausal symptoms
Insomnia and sleep disorders
Neurological conditions: Chronic headaches, sciatica, and nerve injuries
Respiratory problems: Asthma, sinusitis, and allergic rhinitis
Watch as Dr. Andrea Pennington discusses which conditions are best treated with acupuncture.
Acupuncture is used to treat a variety of conditions ranging from stress/anxiety to pain to disease. The following is a list of common conditions for which acupuncture has been proven effective in clinical studies, according to the World Health Organization (WHO):
• Adverse reactions to radiotherapy and/or chemotherapy

• Allergies

• Blood pressure problems

• Breech position in pregnancy

• Depression

• Facial pain

• Headache

• Induction of labor

• Knee pain

• Low back pain

• Menstrual pain

• Morning sickness

• Nausea and vomiting

• Neck pain

• Pain in dentistry

• Postoperative pain

• Rheumatoid arthritis

• Sciatica

• Sprain

• Stroke

• Tennis elbow

• Temporomandibular joint (TMJ) disorder

The WHO also recognizes other conditions for which acupuncture has shown efficacy but further research is necessary.
Continue Learning about Acupuncture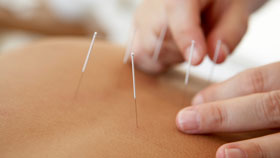 Imagine relief from back pain without medication. Imagine childbirth without the intense pain. These are just a few of the many benefits acupuncture may provide. Acupuncture originated in China thousands of years ago. It involves ...
a technique using very thin needles, which are strategically inserted in certain parts of your body. The theory is founded on balancing the flow of energy (qi or chi) through pathways (meridians) in your body. Practitioners believe that by restoring the energy flow, a re-balancing and restoration of harmony will be restored to your body. Western medicine is becoming more and more open to this ancient practice, and over the past several decades, acupuncture has been looked upon as a favorable alternative to treating many conditions.
More