After an acupuncture treatment it is important to stay well hydrated and to get plenty of rest. Some people feel energized after a treatment while others feel tired. It is important to listen to your body.
The answer to this question depends on the ailment for which acupuncture was sought. If one had an injury to begin with, then one should take it easy after acupuncture. Remember, although the perception of pain may be decreased after acupuncture, the injury still exists. However, if one were receiving acupuncture for stress for example, then regular activity can resume immediately. Ask the doctor or practitioner administering your treatment for specifics as to how to take care of yourself after acupuncture.
Find out why, and how you should take care of yourself after having acupuncture, by watching this video.
Continue Learning about Acupuncture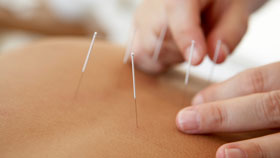 Imagine relief from back pain without medication. Imagine childbirth without the intense pain. These are just a few of the many benefits acupuncture may provide. Acupuncture originated in China thousands of years ago. It involves ...
a technique using very thin needles, which are strategically inserted in certain parts of your body. The theory is founded on balancing the flow of energy (qi or chi) through pathways (meridians) in your body. Practitioners believe that by restoring the energy flow, a re-balancing and restoration of harmony will be restored to your body. Western medicine is becoming more and more open to this ancient practice, and over the past several decades, acupuncture has been looked upon as a favorable alternative to treating many conditions.
More