More and more, doctors are learning acupuncture as ways of providing pain relief and other benefits to their patients. But not all acupuncturists are physicians. They may be nurses and nurse practitioners; physical therapists, or other health professionals. Whatever their overall background, every acupuncturist must pass specialized training in this practice. They must also meet their state's regulatory requirements.
The bottom line for finding a qualified acupuncturist is the same as with any specialist: get referrals. See if your insurance company pays for this technique; if so, they're likely to have a list of providers they've approved. Another option is to find an integrative medicine center, usually one affiliated with a hospital. These are places that bring together a wide range of experts in physical and mental health to provide a total therapeutic approach to healing. You're most likely to be satisfied if a doctor you already know recommends the acupuncturist.
Continue Learning about Acupuncture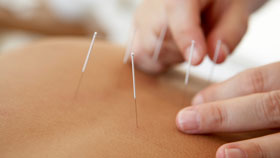 Imagine relief from back pain without medication. Imagine childbirth without the intense pain. These are just a few of the many benefits acupuncture may provide. Acupuncture originated in China thousands of years ago. It involves ...
a technique using very thin needles, which are strategically inserted in certain parts of your body. The theory is founded on balancing the flow of energy (qi or chi) through pathways (meridians) in your body. Practitioners believe that by restoring the energy flow, a re-balancing and restoration of harmony will be restored to your body. Western medicine is becoming more and more open to this ancient practice, and over the past several decades, acupuncture has been looked upon as a favorable alternative to treating many conditions.
More