In a nutshell, so many treatments are available for acne because no one treatment is perfect and because there are so many underlying reasons, both internal and external, that either cause acne directly or at least cause acne to flare in an individual. For this reason, there is, by definition, the need for several different approaches. Also, if you look at the treatments available, there are lots of variations on similar themes. Medications are combined and delivered in a variety of ways to make them more appealing and effective and to increase your likelihood of using them on a regular basis. Also, the skin can adapt to any particular treatment, as can the bacteria that is responsible for certain types of acne, which means that we often have to rotate treatments in order to maintain clearance.

Topical treatments are the mainstay of acne treatments. They are used alone or in combination with oral medications to treat and control acne breakouts.

Because many of these treatments have different modes of action, they are often used together in various combinations for maximal benefit in the treatment of acne. Combination treatment is now the standard of care in acne therapy. The newest drugs coming to the market are focusing very highly on creating prepackaged combinations to help increase compliance and simplify acne treatment regimens.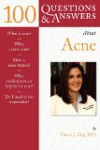 More About this Book
100 Questions & Answers About Acne
100 Questions and Answers About Acne provides you with all the information you need to manage your complexion problems. Written by Dr. Doris J. Day, a world-class expert in the field, this clearly...
Continue Learning about Acne Treatment