The choice between topical and systemic medications is generally based on the presence, extent, and severity of inflammatory lesions. For best results, antimicrobial agents should be combined with topical retinoids and a topical benzoyl peroxide (BP) product. This increases efficacy, shortens the treatment duration, and helps prevent antibiotic resistance.

The main indication for oral antibiotics is moderate-to-severe inflammatory acne. Tetracyclines are the most commonly used family of antibiotics, a class of antibiotics known as macrolides, and a third class called sulfonamides. Topical antibiotics and BP are indicated in people with mild-to-moderate inflammatory acne. It is highly recommended that topical treatments, such as with BP and azelaic acid or retinoids, be used in combination with oral antibiotics in order to speed the treatment results and to minimize the resistance of the bacteria to the antibiotic.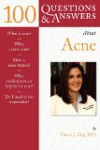 More About this Book
100 Questions & Answers About Acne
100 Questions and Answers About Acne provides you with all the information you need to manage your complexion problems. Written by Dr. Doris J. Day, a world-class expert in the field, this clearly...
Continue Learning about Acne Treatment