Before you start oral isotretinoin, you should have a detailed discussion with your doctor regarding any concerns that you may have about the treatment, and you should be sure to discuss any personal or family history of depression. Your doctor will give you a booklet that the makers of oral isotretinoin provide for you to take home to review and discuss with your family. You will bring this booklet back with you on the next visit because both you and your doctor must sign and date several pages, some of which you will keep, some of which the doctor will keep, and a few of which will be sent to the company as part of a survey. At this pre-treatment visit, your doctor will also request baseline blood tests, which will be repeated monthly while you are taking the drug.

If you are a woman, your doctor will also review pregnancy and contraceptive issues with you and make sure that you are not pregnant at the start of treatment. It is important to understand that the risk of birth defects exists only while the retinoid is in the body; after the retinoid is cleared, typically 6 weeks after discontinuing therapy, there is no longer a risk. A patient information form and video are available from the manufacturer to help with counseling regarding contraceptive and pregnancy issues.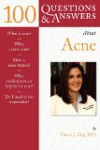 More About this Book
100 Questions & Answers About Acne
100 Questions and Answers About Acne provides you with all the information you need to manage your complexion problems. Written by Dr. Doris J. Day, a world-class expert in the field, this clearly...
Continue Learning about Acne Treatment