Because acne often seems to be at its worst when women are at the height of their child-bearing potential, it is very important to let your doctor know all of the medications that you are using to treat your acne, even the over-the-counter medications, if you become pregnant. In most cases, your doctor will simply tell you to stop therapy, at least for a while.

In many countries, topical benzoyl peroxide and topical erythromycin can be used during pregnancy. Azelaic acid is also approved for use in pregnant women in some countries. Topical retinoids are not recommended for use in pregnant women.

For pregnant women who have severe acne or acne that leaves significant scars, oral tetracyclines, including doxycycline and minocycline, are not only not recommended, they are contraindicated -- that is, the prescribing doctor should not offer them at all because they are harmful to the developing fetus. Oral trimethoprim is also not recommended.

Erythromycin is considered the safest choice, followed by topical benzoyl peroxide and azelaic acid. It is important to review with the obstetrician before any medication for acne is used. The obstetrician may tell you to hold off on certain treatments until after the first trimester of pregnancy.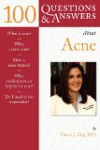 More About this Book
100 Questions & Answers About Acne
100 Questions and Answers About Acne provides you with all the information you need to manage your complexion problems. Written by Dr. Doris J. Day, a world-class expert in the field, this clearly...
Continue Learning about Acne Treatment