In dermabrasion, the skin is anesthetized and frozen and an extremely sharp rapidly rotating blade sheers away damaged tissue. This procedure, the equivalent of deep sanding, has fallen out of favor with the availability of newer, easier techniques.
In the process of dermabrasion, the upper and middle layers of the skin are removed in order to improve acne scarring. Important considerations need to be addressed before undergoing this type of procedure. Dermabrasion is ideal for people with types I–IV skin who have superficial scars. Healing time is involved, and local anesthetic is a must because the procedure is otherwise very painful.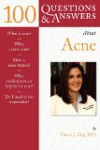 More About this Book
100 Questions & Answers About Acne
100 Questions and Answers About Acne provides you with all the information you need to manage your complexion problems. Written by Dr. Doris J. Day, a world-class expert in the field, this clearly...
Continue Learning about Acne Treatment