There are four factors to consider in deciding when to treat and how to treat acne. They are as follows:
What is the severity of the lesions present? How long do the pimples last and are they very itchy or painful?
How long has the acne been a problem? Is it a recent occurrence that you can relate to specific events such as a specific medication you took for a while, or has it been going on for years?
How have you responded to treatment in the past?
What is the tendency for scarring and hyperpigmentation? Do your acne lesions leave behind red or brown marks or scars?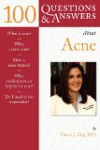 More About this Book
100 Questions & Answers About Acne
100 Questions and Answers About Acne provides you with all the information you need to manage your complexion problems. Written by Dr. Doris J. Day, a world-class expert in the field, this clearly...
Continue Learning about Acne Treatment