With over-the-counter topical treatments, the formulations are designed to work on many different levels. First, there is the packaging because so much of selling a product comes from getting you to believe that it is the best product available. Once the company has your attention, they want you to keep buying the product, and thus, they often make a variety of formulations based on the same theme. They may offer a benzoyl peroxide wipe, gel, cream, foam, and wash of various strengths. They may offer salicylic acid in a wash, lotion, makeup, or other formulation to allow them to claim 8- to 12-hour shine control. The idea is to offer the product in as many formulations as possible to appeal to as wide an audience as possible. There is often special attention to the way the product feels and looks on the skin and to covering the acne while treating it. These products have become increasingly more sophisticated over the years and have contributed very nicely to the arena of acne treatment.

The larger companies especially do a lot of research on what the acne treatment-seeking population is looking for, and they will find a way to get it to you as best as they can. There are limits to what the over-the-counter market can offer and claim, so over-the-counter treatments alone are often not enough to address the issues of acne completely, especially in cases of moderate or severe acne. They are often excellent when used along with prescription medications.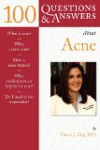 More About this Book
100 Questions & Answers About Acne
100 Questions and Answers About Acne provides you with all the information you need to manage your complexion problems. Written by Dr. Doris J. Day, a world-class expert in the field, this clearly...
Continue Learning about Acne Treatment