The vehicle is part of the product that holds the active ingredient. It is the base or the part of the product that gives it substance. It plays a critical role in how well the active ingredients are absorbed and tolerated. In some cases, the active ingredient can be made much stronger or weaker, depending on its vehicle. In the end, the vehicle is often as important as the active ingredients in achieving satisfactory treatment results from topical acne therapies.

There is an old saying in dermatology: "If it is wet, dry it. If it is dry, wet it." This is true for the vehicle. When the skin is very oily, gels are much better tolerated. When the skin is very dry, products that come in creams or ointments are more appropriate. Lotions and oils are usually better used in the summer months or when there is more humidity in the air.

The more moisturizing a product, the greasier it is, making it unacceptable to most people. On the other hand, the more drying a product is, the more irritating it can be and, again, the less acceptable it is to many people. Sometimes, combinations of more drying and more moisturizing products can be used concomitantly for excellent results. This is true for most acne treatments. Because most topical anti-acne medications are at least somewhat drying, combining them with moisturizers makes them less irritating, which is likely to increase compliance and maximize results.

Another consideration is that some products are more effective when presented in certain vehicles. For example, benzoyl peroxide is known to be more active when used in the gel formulation than in the other vehicles that are available; however, it may also be more irritating to some in this formulation, and thus, the options are to use a lower concentration in a gel formulation, to choose a higher concentration in a cream, or to try the cleansers in various strengths.

The manufacturers of these medications realize that in order for their products to work, people have to be willing to use them. For this reason, they are constantly working on better and more appealing ways to present their product so that you will keep coming back to their specific brand, even if it costs a bit more. Fortunately, lots of choices are out there already, with more new and improved options becoming available on a regular basis.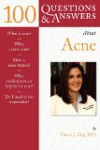 More About this Book
100 Questions & Answers About Acne
100 Questions and Answers About Acne provides you with all the information you need to manage your complexion problems. Written by Dr. Doris J. Day, a world-class expert in the field, this clearly...
Continue Learning about Acne Treatment