Once the patent on a drug expires, other companies can then apply for approval from the US Food and Drug Administration (FDA) for medications using the same active ingredients for the same indications. The amount of testing they have to do is much less than for the company that develops the brand-name product because the active ingredient is already proven. The new product is labeled as a "generic." This makes it a much less expensive venture and is helpful in that it can bring the cost of the medication down significantly.

There are several aspects of a medication besides the active ingredient, however, that affect how well it works and how well it is tolerated in terms of side effects. Sometimes a big difference exists between two drugs that have identical active ingredients. For example, an oral antibiotic can be coated to make it dissolve more slowly, can have fewer side effects, and can be better tolerated when taken with food. The generic may have the same active ingredient, but unless taken on an empty stomach, it may not be absorbed and will therefore not work. Also, it may have an increased side-effect profile in terms of nausea and stomach upset. It may also need to be taken on a different schedule, twice a day or more, for example, instead of once a day for the brand-name medication.

For topical medications, the active ingredient is only one part of the equation. Two medications that contain the same quantity or percentage of active ingredient may be much more or less irritating or much more or less effective, depending on the other side ingredients in the formulation. It is the vehicle in which the active ingredient is framed that allows for the medication to be absorbed into the skin and exert its effect.

Studies show that some of the generics, which have the exact same active ingredients, are not absorbed into the skin, and the result for the user is increased irritation with decreased efficacy. This is not true for all medications, but it is not rare either. There may also be a difference in the preservatives and fragrance used in one formulation as opposed to another. These can make a difference in how well you tolerate the product being used. For this reason, it is important to review with your doctor whether it matters for any given prescription if it is filled as brand name or generic and then make sure that you get exactly what your doctor prescribed to ensure that you get the best results from your treatment.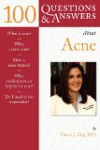 More About this Book
100 Questions & Answers About Acne
100 Questions and Answers About Acne provides you with all the information you need to manage your complexion problems. Written by Dr. Doris J. Day, a world-class expert in the field, this clearly...
Continue Learning about Acne Treatment