Several advances have taken place in the realm of antibiotic production. Although the original formulation of tetracycline is still available and is very inexpensive relative to the newer products on the market, it must be taken at least 1 hour before or 2 hours after eating any foods that contain dairy products. Otherwise, it will not be absorbed and will not be effective.

Increasingly, doxycycline and minocycline are being used as alternative for tetracycline or in cases in which there is no response to tetracycline or if the person is unable to tolerate tetracycline. These newer antibiotics are derivatives of tetracycline. They appear to be more effective in reducing the Propionibacterium acnes population and reducing inflammation than tetracyclines and they are less likely to promote drug resistance. The newer formulations are coated so that they are better tolerated and better absorbed, even if taken with food.

Some antibiotics are even better absorbed and are more effective if taken with food, although you should still avoid taking them with iron or calcium supplements. Each drug has its pluses and minuses, and your doctor will select the one that is right for you depending on your concerns and other health issues.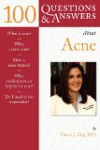 More About this Book
100 Questions & Answers About Acne
100 Questions and Answers About Acne provides you with all the information you need to manage your complexion problems. Written by Dr. Doris J. Day, a world-class expert in the field, this clearly...
Continue Learning about Acne Treatment