Because isotretinoin affects skin cell turnover, it can mean that any surgery or laser resurfacing treatment, or even deeper chemical peels, done within 6 months of taking isotretinoin can lead to excessive scarring and disfigurement. With the advent of the newer lasers available today, known as nonablative lasers because they do not remove the upper layers of the skin, this is probably less of a risk than in the past. Many doctors, however, opt for being more conservative and waiting at least 6 months before doing any elective procedure, especially if it is for cosmetic purposes. Laser or intense pulsed light hair removal is sometimes done while on oral isotretinoin, but you should be careful to have the procedure done by a qualified doctor or in a doctor's office and let the doctor know that you are either still taking or were recently taking oral isotretinoin.
Because the skin is more dry and sensitive while on oral isotretinoin therapy, any treatment that potentially irritates the skin can be a problem. Your skin may react more strongly to waxing or other hair removal methods.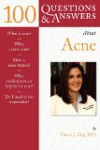 More About this Book
100 Questions & Answers About Acne
100 Questions and Answers About Acne provides you with all the information you need to manage your complexion problems. Written by Dr. Doris J. Day, a world-class expert in the field, this clearly...
Continue Learning about Acne Treatment