Oral isotretinoin has become a very controversial drug because of some of the side effects associated with it. There have been congressional hearings and several attempts to take this drug off the market. Although some of the side effects can be tragic, close monitoring of patients taking this medication can avoid the worst of the potential adverse reactions. There is no other drug available at this time that can treat and often clear severe, scarring, disfiguring acne. Many have even considered their isotretinoin treatment to be life saving. When there is appropriate counseling and monitoring, oral isotretinoin can really be a miracle cure for many with severe, scarring acne.
Although the list of potential side effects and adverse reactions from isotretinoin is quite extensive and even overwhelming to many, the most common side effects include dry, chapped lips and dry eyes, dry skin, and dry mouth. Less commonly, there can also be secondary infection with Staphylococcus aureus. These can be treated with topical or oral antibiotics as necessary. Some patients have noted muscle aches and backaches, and some have mild headaches at the start of therapy. Nosebleeds are fairly common, and skin fragility may also occur, especially on the hands.
Any patient with severe headaches, decreased night vision, or signs of adverse psychiatric events should immediately stop taking the drug and call his or her doctor. In addition, serum lipids should be routinely monitored. This is done by a routine blood test that can be done either at your doctor's office or at a local laboratory test site. Some schools and offices have the ability to do routine blood tests as well.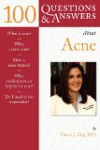 More About this Book
100 Questions & Answers About Acne
100 Questions and Answers About Acne provides you with all the information you need to manage your complexion problems. Written by Dr. Doris J. Day, a world-class expert in the field, this clearly...
Continue Learning about Acne Treatment