Some consider the use of moisturizers in people with acne to be controversial. Moisturizers are not required; however, they can make acne treatments much more tolerable and can improve the quality of skin that may be overly dry from the acne treatments. I am of the school of thought that says the treatment should not be worse than the condition. If your skin is overly dry and irritated from the medicines, then you will likely be unhappy and less compliant with the treatment. Moisturizers can help minimize the sometimes overwhelming dryness that can occur from otherwise very effective acne therapy. If the excessive dryness persists, a change in the medications may be indicated.

If your skin is very oily, moisturizers are not required and need not be used. The best time to use a moisturizer is when your skin feels dry or if you know that you are prone to have easily irritated skin. It is also helpful to use moisturizers with the retinoid category of acne medications, either mixed with the retinoid or applied right over it, especially when first starting treatment, in order to minimize the irritation and peeling that may otherwise occur.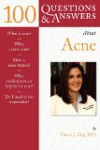 More About this Book
100 Questions & Answers About Acne
100 Questions and Answers About Acne provides you with all the information you need to manage your complexion problems. Written by Dr. Doris J. Day, a world-class expert in the field, this clearly...
Continue Learning about Acne Treatment