An injection of the steroid called cortisone in various concentrations directly into inflammatory lesions is a mainstay of acne treatments. It can be especially helpful for large inflammatory lesions. There is a slight risk of localized thinning of the skin, which may or may not resolve within a few months. The treatment is best done early on in the inflammatory process to both minimize the inflammation and clear the lesion more quickly. Other acne treatments can be continued without interruption.

Injections can be especially useful for the occasional flare of inflammatory acne or the few lesions that often come with monthly menstrual periods in an otherwise successful acne management routine; however, if you find that you are going in weekly for injections, then you probably need to reconsider your overall acne regimen.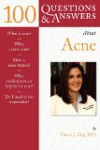 More About this Book
100 Questions & Answers About Acne
100 Questions and Answers About Acne provides you with all the information you need to manage your complexion problems. Written by Dr. Doris J. Day, a world-class expert in the field, this clearly...
Continue Learning about Acne Treatment