The complications from using hydroquinone products are uncommon and usually have to do with ingredients other than the hydroquinone that are added in to increase absorption of the active ingredient and speed the results. Glycolic acid and retinoids can be irritating to the skin, and sometimes the liquid or gel vehicle itself can be irritating. There is also an uncommon complication from using hydroquinones that is more common in African Americans and with longer term use of hydroquinones or higher concentrations of the product. This complication, called exogenous ochronosis, is a condition of the skin that leaves dark brown or black spots that are mostly in the areas of treatment. It often reverses when the treatment is discontinued but can in some cases be permanent. Another reaction that is more of a concern with the higher concentrations of hydroquinone is permanent and unpredictable bleaching of the skin. This really becomes a concern only when concentrations at 10% or higher of hydroquinone are used for an extended period of time.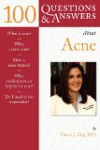 More About this Book
100 Questions & Answers About Acne
100 Questions and Answers About Acne provides you with all the information you need to manage your complexion problems. Written by Dr. Doris J. Day, a world-class expert in the field, this clearly...
Continue Learning about Acne Treatment