There are a number of procedures done in a doctor's office to treat acne. These procedures include chemical peels, microdermabrasion, dermabrasion, laser and laser-like procedures, cryotherapy with either liquid nitrogen or CO2 slush, electrocautery, and surgery to remove scars. Most of these procedures are considered to be "cosmetic," meaning that they are generally not covered under most insurance plans. The treatment that is right for you will depend on your skin type, how much scarring you have, how active your acne is, and how much you can spend on these treatments. Most of these treatments need to be done several times to get proper results, and maintenance treatments are necessary to have lasting improvement over time. The procedures are safe if done properly and can be done along with a topical or oral regimen to maximize your results. Your doctor will determine the appropriate regimen for you and will monitor your results.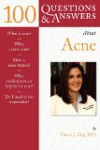 More About this Book
100 Questions & Answers About Acne
100 Questions and Answers About Acne provides you with all the information you need to manage your complexion problems. Written by Dr. Doris J. Day, a world-class expert in the field, this clearly...
Continue Learning about Acne Treatment