The focus of prescription topical treatments is to decrease the amount of bacteria present in the skin, improve skin cell turnover to minimize microcomedo formation, and improve the redness and inflammation associated with acne. Prescription medications are often combinations of one or more active ingredients, and the claims that they can make generally go further than claims from over-the-counter treatments. Medications are also available that are used to reduce the brown spots (known as hyperpigmentation) that can be left behind after the acne lesions have cleared. But, even after the acne is cleared, your job is not over. Most people need a maintenance program to help prevent new acne lesions from forming and keep their skin clear over the long term.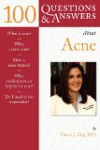 More About this Book
100 Questions & Answers About Acne
100 Questions and Answers About Acne provides you with all the information you need to manage your complexion problems. Written by Dr. Doris J. Day, a world-class expert in the field, this clearly...
Continue Learning about Acne Treatment