Photodynamic therapy involves painting your face with a clear liquid acid (ALA or Levulan) that is absorbed by skin cells, especially damaged ones. After a half hour or so, an intense beam of light is used to activate the acid in the cells, which kills the bacteria responsible for the acne. The procedure, which may need to be repeated, can be incredibly painful both during and afterward, and you may experience redness and peeling for a week or two. However, it quickly clears up acne problems; plus, if there are any actinic keratoses, or precancers, around, it wipes them out too. However, I don't encourage patients to go this route. It's painful and costly, and probably won't be covered by your health insurance plan.

From The Mind-Beauty Connection: 9 Days to Less Stress, Gorgeous Skin, and a Whole New You by Amy Wechsler.
Ultraviolet light treatments are now known to provide only transient improvement, and prolonged use, especially of ultraviolet A, may worsen comedonal acne. Also, the increased risk of skin cancer and photo-aging makes it an even less desirable therapy. Newer photodynamic therapy, which uses a combination of a drug called 5-amino levulinic acid (ALA) and blue light or mixed blue and red light, is successfully being tapped to treat moderate-to-severe acne.

The dermatologist applies the 5-ALA to the affected areas for about 30 minutes to 1 hour and then uses either a blue light, pulsed light device, or pulsed dye laser to activate the areas where the 5-ALA was applied. The results may have significant promise for treating the more severe f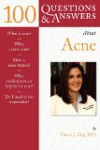 More About this Book
100 Questions & Answers About Acne
100 Questions and Answers About Acne provides you with all the information you need to manage your complexion problems. Written by Dr. Doris J. Day, a world-class expert in the field, this clearly...
Continue Learning about Acne Treatment